GOLD for Woodlands Sport
GOLD for Woodlands Sport
8 August 2017 (by admin)
Woodlands Primary School achieved GOLD for the second year running in the school games award.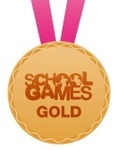 Woodlands were again awarded the GOLD standard from the School Games Award scheme. The news is a fantastic way to finish the school year. PE Leader Mr Whitfield said, "It's wonderful way to end the year! This school has always been a sporting school and the children have a real passion for sport."
The award takes on many aspects including PE in the curriculum, opportunities for extra-curricular sport and competitions. Mr Whitfield added, "We are incredibly lucky here to have Mr Beech and Mrs Moran, they work tirelessly every night after school, breaktimes and lunchtimes to work with the children offering them a wide range of sporting opportunities. They deserve a huge amount of credit for us achieving this award and it's been great working alongside them seeing how they develop our children."
During the year the school has developed links with different sporting clubs, particularly Adwick-le-Street Cricket Club. Mr Beech said, "A lot of our children have started to come along and play cricket, building upon what they have been doing at school." These links certainly have helped the children, one of the boys being selected by Yorkshire CCC and the girls were invited to practice at Adwick-le-Street Cricket Club a couple of days before the County Finals.
Mr Whitfield finished by saying, "This award reflects the hard work put in by everyone, especially the children. Our children really do enjoy sport and are always willing to give things a go."