Cricket Champions
Cricket Champions
24 May 2017 (by admin)
Woodlands' Year 5&6 Girls are cricket champions of Doncaster!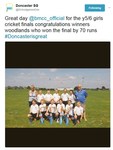 Today Mr Beech and Mrs Moran took a group of girls from Years 4, 5 and 6 to a Doncaster Schools Cricket tournament.
Despite it being a scorching hot day, the girls won their 3 group games to progress to the Semi-final. They faced off against Hayfield Lane school and emerged victorious! Then came the final showdown...Woodlands Primary School v's Canon Popham. We're delighted to announce that the girls skill, determination and team spirit paid off and they beat Canon Popham and WON the Doncaster Schools Cricket tournament!
They won every game they played and never gave up, even when many of them must have been very hot and tired. Massive congratulations to Amber, Kennedy, Michaela, Chloe C, Alexia, Ellieann, Ellie, Phoebe, Holly, Emma and Chloe M. You played as a team and we are very proud of you all. Mr Beech would also like to thank those parents who came prepared with lollies! Well done girls - Cricket Champions!