Woodlands Girls win Rotherham Tournament
Woodlands Girls win Rotherham Tournament
21 May 2017 (by admin)
The Girls football team were victorious in Rotherham on Saturday.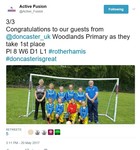 The girls had a long way to travel to take part in this tournament but it didn't affect them at all. They played well, winning all but two of their games in the tournament.
They stuck to the game plan throughout and played some excellent football. Mr Beech and Mrs Moran were delighted with the outcome saying, "We are so pleased for the girls, they played really well and did all the things we asked them to."
The tournament was organised by Active Fusion and Woodlands was the only school from Doncaster in the tournament.
The photo attached was taken by Active Fusion from their Twitter feed @active_fusion